Sneak Peek at the 2020 Jeep Gladiator
The 2020 Jeep Gladiator is what Jeep lovers have been asking for. A Jeep mixed with a pickup and a convertible. It's hard to believe everything that's wrapped together in this vehicle, especially when you consider the low cost.
The Jeep Gladiator is stunning – part pickup truck and part Jeep Wrangler. It'll bite through the most intense winter driving conditions mother nature has to offer, but at the same time it's a convertible you can enjoy with the top down on a summer day.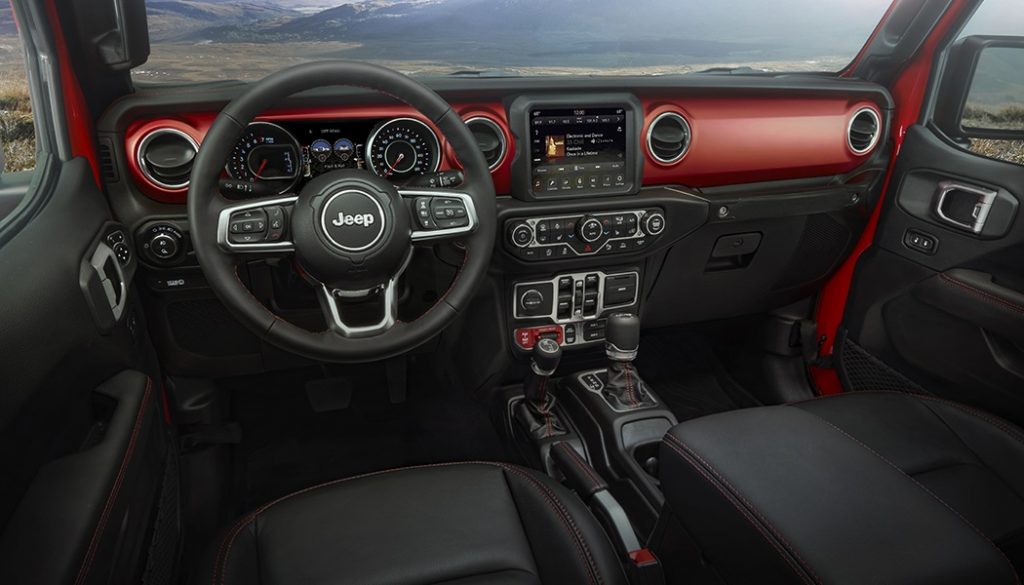 Luxury Interior
The 2020 Jeep Gladiator Overland comes with an upscale interior, a lot of impressive tech, and a heated steering wheel that pre-warms with the remote starter on cool mornings. The interior will impress with incredible fit and finish, plenty of well thought out touches, and a general execution that says 'upscale and one of a kind', not 'broken down work truck'.
The front console contains of the most intuitive touchscreen displays of any vehicle on the market. If you find touchscreen interfaces a bit confusing or difficult to use, then you will be happy to hear that the Gladiator's is dead simple and can be figured out in minutes.
Rugged Outside
The Gladiator's ride feels quite similar to what you would expect from a Wrangler or a pickup truck. It feels more tough than refined and you can tell this vehicle was built to handle difficult off road terrain. Overall, the emphasis is on durability and off-road performance and that can be felt from the minute you start the ignition.
The best thing about driving the Gladiator is its rough surface ride quality. When off-roading with this impressive vehicle you won't be jolted around in an uncomfortable fashion.
You can feel this rough surface ride quality when driving over giant potholes or traversing a dirt road. The suspension feels strong even when you're traveling over the most punishing off-road surfaces. Keep in mind that this feeling isn't for everyone. If you're used to the peaceful ride of a luxury sedan or SUV, then the Gladiator can feel quite jolting. However, if you are used to driving a pickup truck then you will feel right at home in the Gladiator.
For an off-road vehicle the ride quality can be surprisingly sporty. There's quite a bit of torque and a responsive brake pedal which gives this vehicle a lot of pop as you are cruising city streets.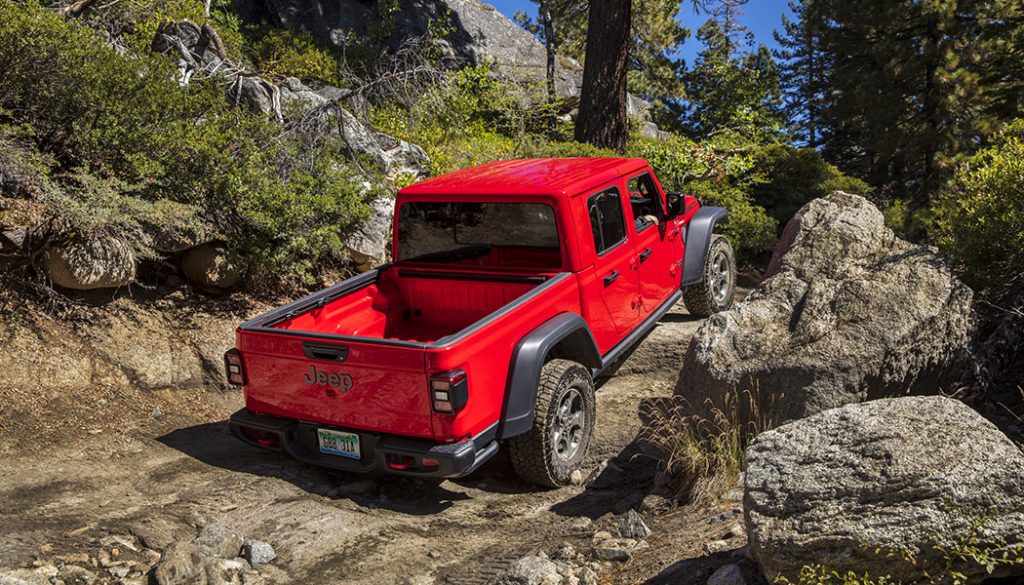 Enjoy Going Off-Road?
The Jeep Gladiator comes with a 3.6 liter 285-horsepower V6 engine and an 8-speed automatic transmission. There's also an option for a 6-speed manual transmission for those that enjoy the feeling of a stick shift. The engine has more than enough power and strength for just about anything you could throw at it.
Mileage is unfortunately a weak spot. It averages only 19 MPG which is true to form for a vehicle that's designed to go off-road. Be certain to make the most of the Gladiator's capacity and ability, as you will be paying for it at the pump.
It's easy to switch back and forth between 2-wheel drive, 4-wheel drive or 4-low. A simple switch on the intuitive console let's you rotate between these different drive modes depending on what you're planning to use the vehicle for that day. Our personal favorite for winter driving was the 4-wheel drive option which fared exceptional in icy, wet conditions.
There is plenty of interior space for four average-sized adults during shorter trips. However, adults in the back row may feel cramped for anything longer than a day trip. Headroom in the back row of the 2020 Jeep Gladiator can be a little tight, but children won't even notice this issue.
We recommend you spring for the options LED headlight package as it gives you unparalleled driving performance at night. These are the types of headlights you would normally find on a luxury sedan from BMW or Mercedes-Benz.
The one downside we have to mention is the removable plastic rooftop that the Gladiator shares with the Wrangler. This can be noisy when cruising on the highway at top speeds.
In conclusion, the 2020 Jeep Gladiator is a fantastic choice for those who want an adventurous vehicle that caters to their active lifestyle.