Our Favorite 2021 SUVs Under $30,000 – Starting With Mazda!
Style, comfort, power, and practicality. Our list of the best SUVs to watch out for in 2021 offers drivers the ultimate luxury experience at an affordable price.
Related ads
Over the years, the demand for SUVs has significantly risen. It seems like nobody wants sedans anymore. And because of the high demand, leading manufacturers are creating new models and options every year. As a result, we expect to see the release of some exciting SUVs in the coming months and years.
Automakers are not only releasing new models to fill gaps in their lineup but also bringing back old favorites in a completely new or revamped look. What's even better, these new SUVs and carlike crossovers are affordable.
Mazda CX-30 – $21,900
The Mazda CX-30 is a recent addition to Mazda's solid lineup of SUV models. Although close in size with the Mazda CX-3, it's more modern and quite desirable. The 2020 model borrows its powertrain, interior design, and styling from Mazda 3 sedan and hatchback, but with a slightly elevated suspension which gives it an SUV-like feel.
It comes with multiple engine options and a near-premium cabin that should give more-expensive rivals like the BMW X1 and the Audi Q3 pause. This impressive upcoming SUV won't break your budget but will look great.
Best features
High-tech driver assistant features
Optional leather seats
High-performance infotainment system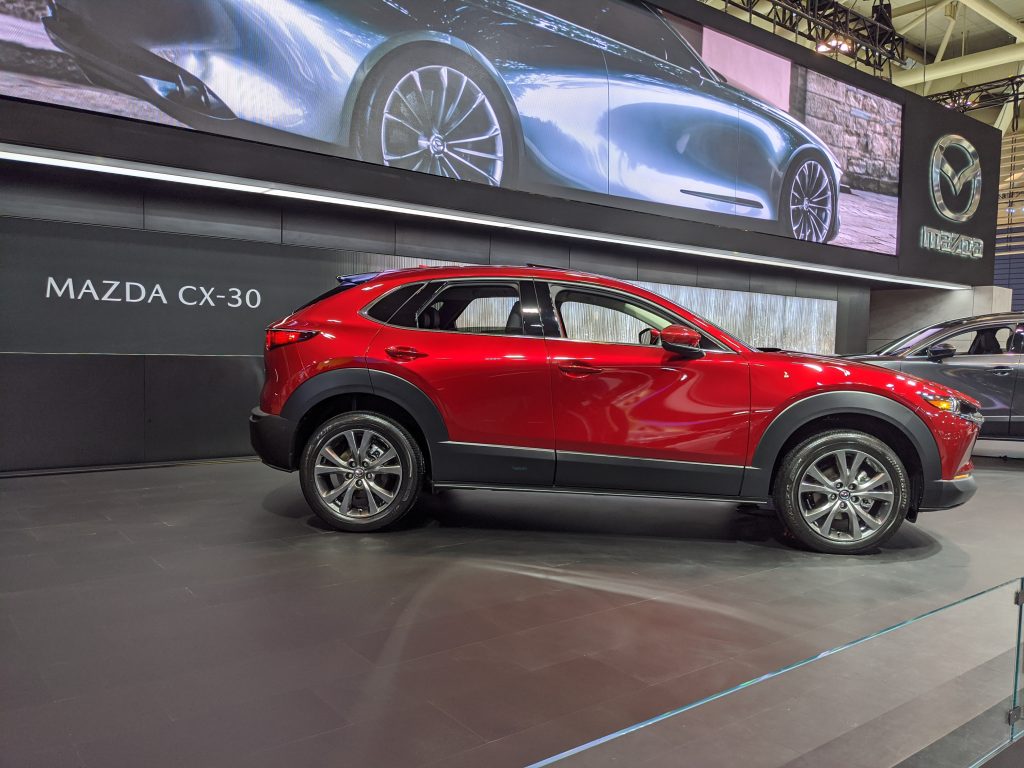 Related ads
Chevrolet Trailblazer- $19,000
After being absent in the US since 2009, the Chevrolet Trailblazer is back and even better than before. This revamp comes after the success of the larger Blazer SUV reintroduced by Chevy last year.
The 2021 Chevrolet Trailblazer is a crossover that fills the gap in the Chevy lineup between the tiny Chevy Trax and the larger Equinox. Although it shares some similarity with the Blazer in that it adopts some Camaro-like exterior cues for a uniquely aggressive appearance, it stands out from other subcompact crossovers because it offers an Activ trim level.
The revived Trailblazer comes with cool styling options, including two-tone paint, keyless ignition, and more.
Best Features
Roomy seating and cargo space for an extra-small SUV
Pedestrian braking will be helpful behind the wheel
Multiple cameras and options such as adaptive cruise control
Automatic emergency braking
Ford Bronco: $29,995
The legendary Ford Bronco was arguably the most popular SUV on the road in the mid-1990s. Its 2021 model is backed up with cool retro styling, impressive off-road capabilities, and innovative features. While most drivers will decry the absence of a V-8 option, they will love Bronco's optional manual transmission and its numerous nostalgic details.
It's a tough SUV customized to hit open roads. It's the ideal vehicle for individuals who love off-roading because it's loaded with technology and bold capabilities that suit any kind of adventure.
The 2021 Bronco comes with durable waterproof surfaces that offer protection to cargo when the soft and hard rooftops are removed. Its convertible design, plus two and four-door body nature, pits Ford's Branco rugged SUV against the famous Jeep Wrangler.
Best Features
Removable door for open-air driving
A trim suite convenient for nearly all buyers
Impressive support and off-road capabilities
Buick Encore GX – $25,195
If you're an SUV enthusiast, then you've probably heard of the Buick Encore GX, which was introduced last year. There are two Encore SUVs: the original Encore extras small SUV, introduced back in 2013, and the new Encore Envision.
The 2021 Buick Encore is a completely new SUV for this auto manufacture. It features an updated interior, more advanced safety features, and improved performance. Also, it packs a much larger cargo area.
However, what really sets apart this SUV is its all-new platform, powered by all-new engine options. It's the first SUV in Buick's lineup to try a quieter and more-fuel efficient approach.
Best Features
Comes in three trim levels and engine options
Many driver technologies to improve your on-the-road experience
Wireless Android Auto and Apple CarPlay compatibility
Satellite radio standard
Lots of cargo and passenger space
Get Your Hands on One of These SUVs
Some SUV models we've mentioned are yet to be released, but many reviewers and drivers are excited about their arrival. And who knows, maybe before the end of 2021, you'll be able to give some of these impressive SUVs a test drive.
The best part about these SUVs, is that are well-priced. They all fall between a price range of $20,000 to $30,000, meaning they're ideal for people on a budget. Many local dealers are also offering attractive lease options that will help keep monthly payments to a minimum.
Related ads